Scientists: wheat triggers inflammation (even if you're not coeliac)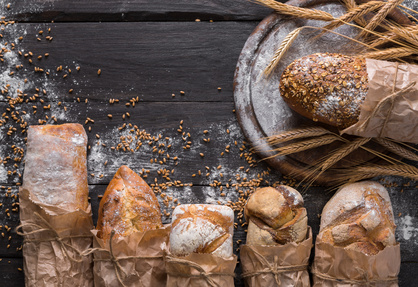 Columbia University Medical Center researchers recently found that gluten/wheat issues in non-coeliacs can be due to a weak intestinal barrier (leaky gut some may call it). A second study has now confirmed their findings that wheat is inflammatory, and that it triggers or worsens chronic health conditions like multiple sclerosis, asthma, and rheumatoid arthritis,  even if you're not coeliac. The troublesome wheat protein identified in the study also contributes to the development of non-coeliac gluten sensitivity. 
You can read my post about the first study here. 
Consuming the amylase-trypsin inhibitors in wheat (ATIs), which make up less than five percent of the total protein, can lead to inflammation not just in the gut but also the lymph nodes, kidneys, and brain. The researchers say that ATI driven inflammation differs to celiac, and is not related to gluten. ATIs rather activate immune cells in the gut and other tissues, which worsens pre-existing inflammation.
Histamine intolerance and mast cell activation are both inflammatory conditions and I have consistently found that eating wheat (and many other grain products) aggravated my histamine levels and caused massive inflammation. That's why I cut them out fairly early on in the game even when every single histamine researcher and mast cell doctor I spoke with insisted it was fine as a part of our diet. The study authors went on to say they hope to be able to recommend an ATI-free diet to help treat immune disorders.
CLICK HERE IF YOU'D LIKE TO LEARN HOW TO CREATE YOUR OWN HISTAMINE BALANCED DIET AND HEALING PLAN.
ATIs are now believed to encourage the development of  non-coeliac gluten sensitivity. Sufferers experience severe intestinal distress which is relieved by not eating wheat and gluten containing products. The study authors however believe that a more appropriate term than gluten intolerance is needed since it's not the only inflammation causing component in wheat. If you're reacting to grains other than wheat/gluten containing ones, it might be worth remembering that the body can sometimes misidentify them as related to wheat. It may also be that you have an issue with oxalic acid found in plants and grains. You can read about that here.
It's finally here! Man Food – a high nutrient antihistamine and anti-inflammatory ingredient filled book geared towards guys, women who love to work out, yoga like they mean it, or just load up on healing nutrients. Features my personal shopping list of antihistamine and anti-inflammatory foods.
The Anti-cookbook and all liquid Anti-Detox Book, don't treat any conditions, but feature a plethora of the high nutrient antihistamine and anti-inflammatory ingredients that have been instrumental in helping me feed myself on a limited diet. The Anti-cookbook features a four page list of antihistamine and anti-inflammatory foods and comes in regular and Paleo.
The Low Oxalate Cookbook features antihistamine and anti-inflammatory rich recipes.
Don't miss the Low Histamine Beauty Survival Guide for non-toxic beauty tips, the skinny on histamine releasing (mast cell degranulating) beauty ingredients, antihistamine and anti-inflammatory beauty alternatives and the top brands natural brands I've found.
Take a peek at my other low histamine and antihistamine cookbooks for more high nutrient recipes
——-REFERENCES——-
Zevallos V, Weinmann-Menke J, Meineck M et al. Alpha-amylase/trypsin inhibitors (ATIs) accelerate murine systemic lupus erythematosus. Poster presentation at the 16th International Coeliac Disease Symposium, 21–24 June 2015, Prague, Czech Republic. Poster P168.