Savoury Waffles with Zucchini Chutney & Asparagus
This is one of my favourite lunch recipes, taken from my latest book Man Food. This ebook is built on the same principles as the Anti-Cookbook and Anti-Detox, namely that there be little or no grains, dairy, soy or corn, but lots of ingredients with antihistamine and anti-inflammatory properties also dense in wonderful phytonutrients.
None of my books offer medical treatment, but rather a blueprint of what I've eaten over the last few years as I've worked to rebuild my health and heal my body. I'll be sharing the steps I took and the best advice I wish someone had given me on this journey in my 90 minute online workshop live at 10am PST / 1pm EST / 7pm CEST (Paris) this Saturday 23rd April. This workshop has now passed, but you can buy the recording here. 
Savoury Waffles with Zucchini Chutney & Asparagus
Prep Time: 10mins | Baking Time: 20mins | Servings: 2-4 waffles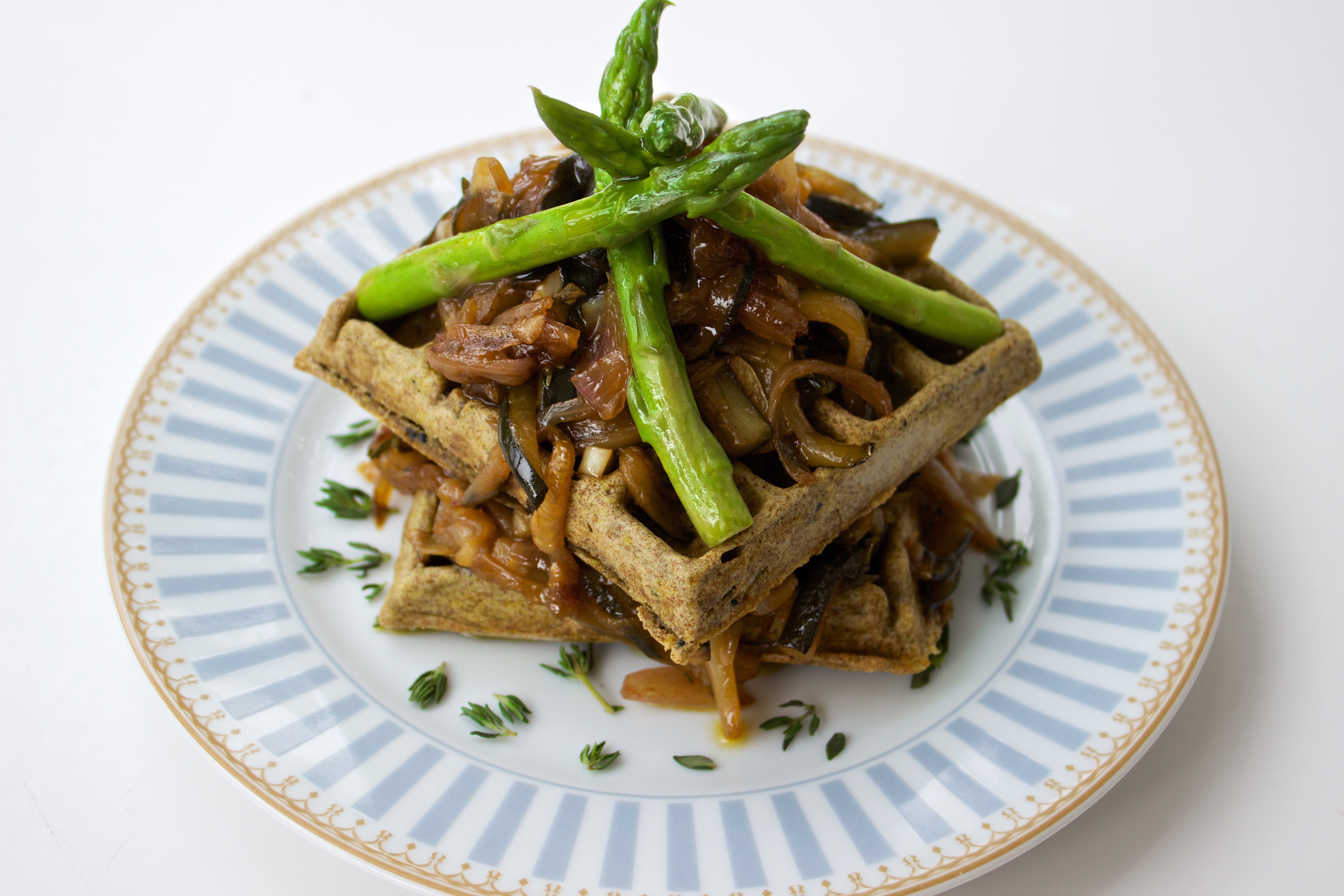 If you have problems digesting chickpeas I'd recommend letting the chickpea flour batter sit for 30 minutes to an hour. You can use any veggies or any flour you like for these. A chestnut/sorghum/water chestnut/rice flour combo works really well. Likewise pretty much any veggie works for the chutney.
INGREDIENTS
Waffles 
1 cup chickpea flour
1 cup water
2 tablespoons olive oil
Handful coriander, finely chopped
Handful basil, finely chopped
Pinch salt
Optional
1-2 tablespoons protein powder
Chutney
2 cups zucchini, grated
2/3 cup shallots, chopped
2 cloves garlic, pressed
2 tablespoons turmeric, grated
2 tablespoons coconut sugar
2 tablespoons apple cider vinegar or lemon juice
Pinch salt
Half a cup steamed asparagus
Handful thyme leaves for garnish
PREPARATION
Waffles
In a medium bowl whisk together the chickpea flour, water, olive oil, coriander, and basil. Brush your waffle iron with some olive oil before heating, then pour batter into the waffle iron and cook for about 5-7 minutes or until they're cooked through.
Chutney
Sauté the shallots in a little olive oil in a pan. Once soft, add in the zucchini, coconut sugar, apple cider vinegar and garlic. If you have time, bake at 180C/390F for 20 minutes instead of preparing in a pan. The flavours will be richer.
Place the chutney on the waffles, top with asparagus and garnish with thyme.
BENEFITS
Manganese: 166%, Copper: 130%, Folate: 127%, Vitamin B6: 98%, Vitamin C: 96%
Antihistamine: garlic, shallots, coriander, basil, turmeric.
Anti-inflammatory: garlic, shallots, coriander, basil, turmeric, chickpeas, zucchini, coconut, apple cider vinegar, olive oil.
It's finally here! Man Food – a high nutrient antihistamine and anti-inflammatory ingredient filled book geared towards guys, women who love to work out, yoga like they mean it, or just load up on healing nutrients. Features my personal shopping list of antihistamine and anti-inflammatory foods. 
The Anti-cookbook and all liquid Anti-Detox Book, don't treat any conditions, but feature a plethora of the high nutrient antihistamine and anti-inflammatory ingredients that have been instrumental in helping me feed myself on a limited diet. The Anti-cookbook features a six page list of antihistamine and anti-inflammatory foods and comes in regular and Paleo. 
The Low Oxalate Cookbook features antihistamine and anti-inflammatory rich recipes. 
Don't miss the Low Histamine Beauty Survival Guide for non-toxic beauty tips, the skinny on histamine releasing (mast cell degranulating) beauty ingredients, antihistamine and anti-inflammatory beauty alternatives and the top brands natural brands I've found.
Take a peek at my other low histamine and antihistamine cookbooks for more high nutrient recipes