Meditation: nature's antihistamine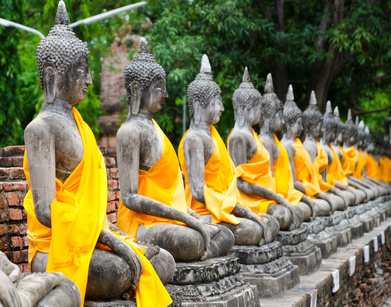 I've been practicing mindfulness/meditation in general on and off since the age of 18, but this time it stuck. I think because I truly committed to it and  finally understood the science behind it, namely that: Meditation is an antihistamine and a mast cell stabilizer [1] as well as a prostaglandin inhibitor [2]. It's so powerful that it brought me back from the brink when I went into anaphylactic shock and had no meds on me [3]. Meditation actually changes the way our genes express. How about that for an epigentic boost! While I've known for some time now that yoga lowers inflammation and yogic pranayama breathing fights asthma by lowering histamine [4], I was nonetheless incredibly excited to hear something specifically linked to my condition. So I thought I'd share a little of the specifics of the course to see if we can make it all the way! Once certified (hopefully by the end of Jan), I plan to run 8 week virtual/online mindfulness meditation workshop of 2hrs, once a week. The sessions will be live, with a recording available for those who miss it. There'll be a Q&A at the end of the session. I mean for this to be a highly interactive experience for us all. The course I'm developing will be highly adapted to our situation (mindfulness at the dinner table, in the kitchen, in the supermarket) and I plan to make a number of mp3s available for download as a bonus. The really cool thing about
this course
is that there's the option to participate in an Oxford University study on how mindfulness affects quality of life. It's totally optional, but I think it's a great bonus.

Here's a little more on how meditation works: A recent study [4] specifically found that just eight hours of mindfulness meditation down regulates (dampens) HDAC and COX2 genes – meaning that mindfulness is an antihistamine and a mast cell stabiliser [5]  as well as a prostaglandin inhibitor [6]. According to a conversation I had with Dr Castells (
you can read some of it here
), prostaglandins are the inflammatory mediators highly responsible for the dreaded brain fog we with histamine/mast cell issues are prone to and mast cell stabilisation means less histamine and inflammatory molecules being released into the body. I'm not the only one experiencing an incredible remission – check out New York Times reporter
Donna Jackson Nakazawa's
own experiences in coming back from paralysis. You can book your spot on the course 
here
. Not into meditation but love the information on this site? There's other ways to contribute, including booking a Skype consult at a discount, as well as buying a personalised cookbook. As with my books, in the future I will be offering spots on the course at a discount to those who are unable to pay.
You'll find recipes full of foods with antihistamine and anti-inflammatory properties my books Anti-Recipes and The Anti-Cookbook
————————REFERENCES———————– [1]  
http://www.news.wisc.edu/22370
, 
http://www.ncbi.nlm.nih.gov/pubmed/18805511
[2] http://www.ncbi.nlm.nih.gov/pubmed/21605904 [3] https://healinghistamine.com/game-changer-the-silva-method/ [4] https://healinghistamine.com/yogic-pranayama-breathing-lowers-histamine/ [5] 
http://www.ncbi.nlm.nih.gov/pubmed/18805511
[6] http://www.ncbi.nlm.nih.gov/pubmed/21605904